Directors Profile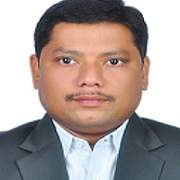 Dr. S.Venkat Rao
M.Sc., PhD, MLISC, MLACS, MACS, AFAPAS
Founder & Managing Director
A dedicated humanitarian opted for delivering world class API intermediates with the economic reach of well needed pharmaceutical companies and directly or indirectly to support millions of patients worldwide. He is well known as Dr. Venkat in pharmaceutical industry.
Dr. Venkat is a PhD holder in Chemistry from Acharya Nagarjuna University, India; Masters in Organic chemistry from Andhra University, his balanced career orientation took him from the position of a R&D chemist to Head - Research and Development in his journey of various leading Indian Pharmaceutical companies, prior to his entrepreneurship.
He initiated Srigen with a vision to discover, develop and manufacture safe and innovative Active pharmaceutical ingredient Intermediates, rare chemical substances, new chemical entities to support Pharmaceutical industry.
Dr. Venkat believes that hard work and knowledge is the key to key to build the skill full team and as well as to establish outstanding organization with successful outcome. Dr. Venkat is the recipient of several prestigious national &international awards for his outstanding contribution to chemistry. South Asian Best Scientist award from EET-CRS south Asian education awards in 2018 & Special scientist award from Education expo TV, Noida in 2016. He admitted as Associate fellow member in Andhra Pradesh Akademi of sciences in 2019.
He is the honored Life member of Indian Science congress (ISC), Asian chemical society (ACS) and member American chemical society. He is the Editor, reviewer, guide for research students.
His success full research stands for about 25 research patents (API, Intermediates process & NCE's national & international Granted /Application level patents), about 70 research publications as full papers and he is the author of two organic chemistry books. Currently he is active member of board of studies (BOS) Adikavi Nannaya University.
Dr. Venkat vision is to make Srigen a best top 10 Indian pharmaceutical companies in the upcoming decade and it should to be created hundreds of employment to empower the nation.

Mr. Naveen Reddy Kallam
Founder & Managing Director
Started Srigen Life Sciences Pvt. Ltd. in 2010. Since then, he has been successfully managing the company providing the direction and leadership. Mr. Naveen Reddy Kallam oversees technical, admin and financial operations of the company. Prior to starting Srigen, Mr. Naveen Reddy Kallam had extensive experience of over 10 years in the Pharma industry and has led various Research and Manufacturing teams.
Mr. Naveen Reddy Kallam is a hardworking personality with adequate knowledge. With his hard work, determination to achieve his vision has driven the organization up to till date.
An extraordinary entrepreneur and a true leader, Mr. Naveen Reddy Kallam has created a working environment that encourages, evaluates and ensures the personal and professional growth of each employee. The positive results manifest in the exponential growth of the company even during periods of economic turbulence.
Mr. Naveen Reddy Kallam has untiringly working to instill into the culture in organization with superior quality of projects and prompt delivery to clients. He has high efficiency of both processes and people are the factors. Mr. Naveen Reddy Kallam is a new generation businessman and he is responsible for many innovations in the Pharmaceutical Sector along with his team.
❮
❯